---
August 2003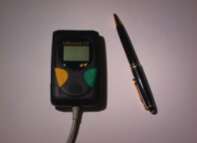 The principles and techniques employed in long-term ambulatory electrocardiographic monitoring were originally devised by Norman J. Holter in the early sixties.The new compact, pager-sized, digital Holter monitor available in my office offers unparalleled convenience for patients and improves compliance even during prolonged monitoring. In addition to diagnosing tachy- and bradyarrhythmias, the device can detect ST segment shifts and heart rate variability (a measure of vagal and sympathetic influences on the heart that can identify patients at risk for a cardiovascular event or sudden death). The classical indications for Holter recording remain: diagnosis of suspected cardiac arrhythmias - palpitations, dizziness, lightheadedness, presyncope and syncope, established arrhythmias, search for asymptomatic episodes of AF, diagnosis of suspected myocardial ischemia and evaluation of therapy – antiarrhythmic drugs, pacemaker function and post myocardial infarction.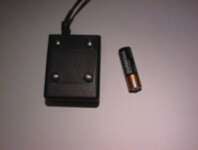 Patients with infrequent arrhythmias are often undiagnosed during Holter monitoring. Event and loop recorders are designed for prolonged monitoring of cardiac patients. The loop recorder attaches to the patient with two electrodes and can be worn for several days or weeks. When the patient experiences symptoms, he or she presses the button, which freezes the ECG recording for 60 seconds preceding and 60 seconds following the activation (or other pre-programmed time intervals) in solid-state memory. The patient transmits the stored information over the phone to an ECG receiving centre. The same device is used as an event recorder, and while carried can be touched via four electrodes (seen on the picture) to the chest.
After recording the ECG for a few minutes,the stored information is transmitted as above. Holter and cardiac event recording are complimentary studies whose combined use increases the diagnostic yield of arrhythmia; from 32% for Holter alone to 71% for Holter combined with cardiac event recording. (Can J Cardiol 11:891-894, 1995).
---
September 20, 2002
This "news" is over 2500 years old.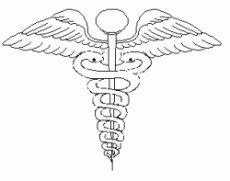 Caduceus, a winged wand with two intertwined serpents, is the symbol of Mercury (or Hermes), the messenger of gods and the patron of trade.