September, 2003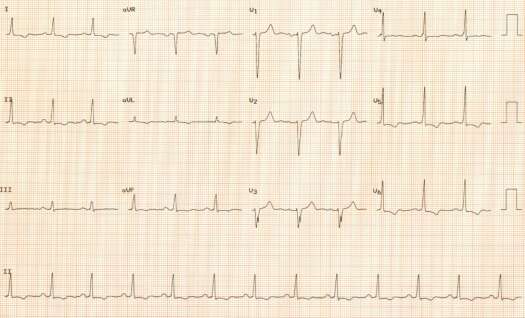 Resting electrocardiogram of a 75 year-old man with type 2 diabetes mellitus, insulin requiring, advanced, inoperable coronary artery disease, ischemic myocardial damage and compensated congestive heart failure. The patient experienced exertional (faster walking) lightheadedness and presyncope.
Rate 76 min
PR 0.20 sec
QRS 0.10 sec
QT 0.38 sec
QTc 0.43 sec
QRS axis + 45º
Interpretation: Abnormal ECG. Sinus rhythm. Borderline PR interval. Borderline LA abnormality. Poor R wave progression across the anterior precordial leads suggestive of previous myocardial damage (could be however related to LVH). Borderline features of LVH with repolarization abnormalities.
The patient exercised 4 minutes 10 seconds into stage II of the standard Bruce protocol. Heart rate accelerated to 113/min (85% of maximum predicted for age – 132/min). BP increased from 148/75 mm Hg to 152/60 mm Hg. The test was terminated as the patient started to experience lightheadedness. Immediately after exercise heart rate slowed down to 38/min in second degree A-V block, Mobitz type 2.There were ST segment changes, more pronounced ST segment depression in leads that showed resting repolarization abnormalities.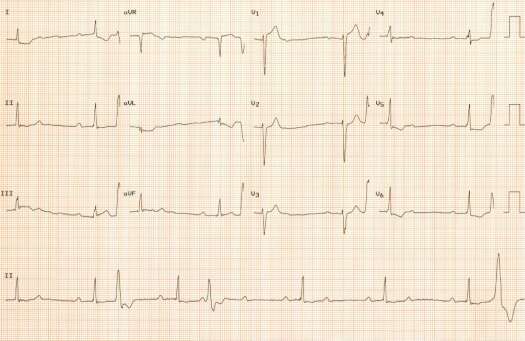 The patient received permanent pacemaker (VDD mode). His coronary artery disease is inoperable.
---