August, 2005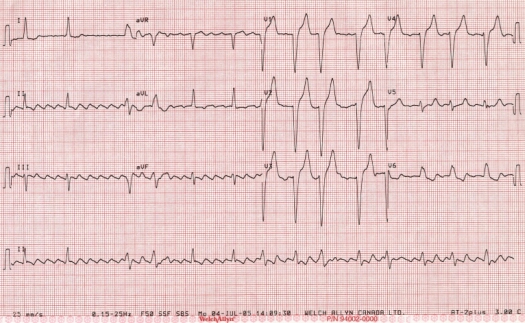 Resting electrocardiogram of a 69 year-old man with mechanical aortic prosthesis inserted 8 years ago (had bioprostesis at the age of 48), who was found to have irregular pulse.
Rate ~ 85/min
QRS 0.14 sec
QT 0.40 sec
QTc 0.47 sec
QRS axis -15º
Interpretation: Abnormal ECG. Atrial flutter with variable AV conduction and controlled ventricular rate. LBBB with secondary repolarization changes. Slight prolongation of QT interval.
The patient is chronically anticoagulated (mechanical aortic prosthesis). The arrhythmia is asymptomatic. He is undergoing further investigations to assess ventricular rate response during various activities and the need for sinus rhythm restoration.
---