May, 2003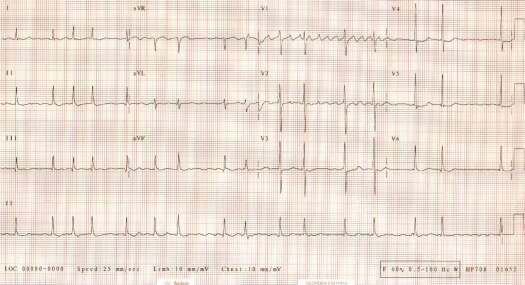 Electrocardiogram of a 51 year-old woman with rheumatic heart disease, permanent atrial fibrillation, progressive shortness of breath and decreasing exercise capacity.
Rate ~ 105/min
QRS 0.07 sec
QT 0.33 sec
QTc 0.44 sec
QRS axis +60º
Interpretation: Abnormal. Atrial fibrillation with coarse fibrillatory waves and rapid ventricular rate. Early transition. Non-specific repolarization changes.
Cardiac catheterization confirmed (diagnosed on the basis of clinical and echocardiographic findings) severe mitral stenosis, moderate mitral regurgitation, moderate left ventricular systolic dysfunction, moderate pulmonary hypertension. The patient underwent mitral valve replacement with mechanical prosthesis.
---